Guesthouse in Bruges
The Guesthouse ( and Parkrestaurant ) are housed in a 19th century townhouse build in 1849. The Guesthouse opened it´s doors in 1989
The house is decorated in traditional style based on influences of the Provence in the South of France. The entrance to the Guesthouse goes through the restaurant, which is situated on the groundfloor of the building.
A majestic stairway leads to the first floor, where all 3 rooms are situated. Each room has a different feel to it but all rooms reflect the old style charm of Bruges from days gone by.
Breakfast is served downstairs in one of the opulent Salons of the house. It is served around 9.00 - 9.30 am or at different times in accordance with the client. There is no breakfast from 7.00 till 10.00 am given the fact that this Guesthouse only counts 3 rooms
We wish you a wonderful stay in our beautiful town !
Goodies
Excellent location
Convenient location in front of the Astrid Park, walking distance to Market
Free Coffee
Free coffee for in-room use available from coffee machine on the first floor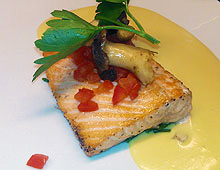 Traditional restaurant
Parkrestaurant open for dinner every night except Monday and Thursday
Free Wifi
Free and strong wifi signal in all rooms, for entire stay